The reigning world champion clocked a 1m29s.725s for Mercedes, 0.421 seconds quicker than Red Bull's Danill Kvyat with Daniel Ricciardo seven tenths adrift in third.
Rain earlier in the morning soaked the track and though a dry line appeared, the session was disjointed as showers fell intermittently throughout.
Drivers were limited to a 15-minute window towards the end of the a 90-minute session to get some representative dry running in.
Red Bull made the most of the slick running and finished second and third with Daniil Kvyat and Daniel Ricciardo respectively – although the latter ended the session in the gravel as the rain returned with vengeance in the closing minutes.
"I was intrigued to see that whatever the conditions there was a Red Bull near the top. But, of course, the two Mercs looked immense," said Sky F1's Martin Brundle.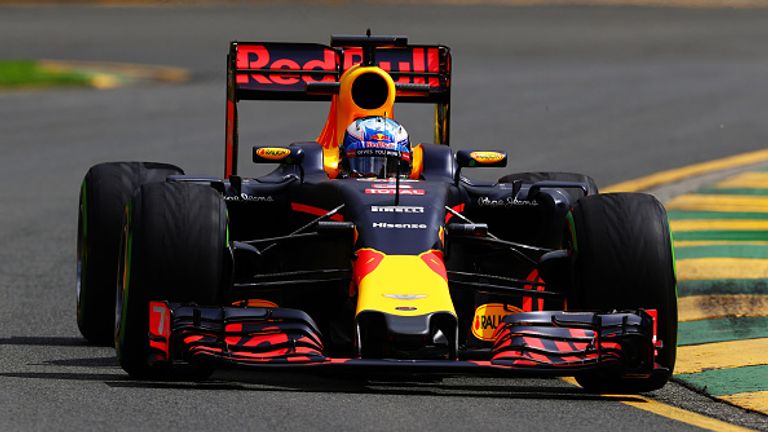 Ferrari are being tipped to challenge Mercedes this weekend but neither Kimi Raikkonen in 17th nor Sebastian Vettel in 21st set representative laps, with the German entering the track late on when conditions worsened.
Force India's Nico Hulkenberg was fourth ahead of Toro Rosso's Max Verstappen, who spun at Turn Six after getting caught out on a wet kerb.
Nico Rosberg did not manage to set a lap time when the track was at its driest, but did get some soft tyre running in late on to finish sixth.
McLaren drivers Fernando Alonso and Jenson Button were tasked with working to complete the team's final configuration and set-up work as it had failed to complete its testing programme.
The duo completed 27 laps between them to finish seventh and eighth quickest respectively.
Force India's Sergio Perez and Kevin Magnussen in the Renault completed the top 10.
Newcomer Haas limited its running given the conditions and its lack of spare parts with Romain Grosjean and Esteban Gutierrez completing just 14 laps between them.
Sebastian Vettel and Carlos Sainz Jr were the only drivers not to set a time.
Lewis Hamilton Mercedes 1:29.725 Soft
Daniil Kvyat Red Bull Racing +0.421 Soft
Daniel Ricciardo Red Bull Racing +1.150 Soft
Nico Hulkenberg Force India +1.600 Soft
Max Verstappen Toro Rosso +1.995 Soft
Nico Rosberg Mercedes +2.089 Soft
Fernando Alonso McLaren +3.335 Soft
Jenson Button McLaren +3.404 Soft
Sergio Perez Force India +3.645 Soft
Kevin Magnussen Renault +4.335 Soft
Valtteri Bottas Williams +4.825 Soft
Felipe Massa Williams +4.954 Soft
Felipe Nasr Sauber +5.071 Soft
Jolyon Palmer Renault +5.752 Soft
Marcus Ericsson Sauber +8.231 Soft
Pascal Wehrlein Manor +10.676 Medium
Kimi Raikkonen Ferrari +11.029 Intermediate
Esteban Gutierrez Sauber +12.055 Intermediate
Rio Haryanto Manor +13.647 Medium
Romain Grosjean Haas +13.718 Intermediate
Sebastian Vettel Ferrari No time
Carlos Sainz Toro Rosso No time